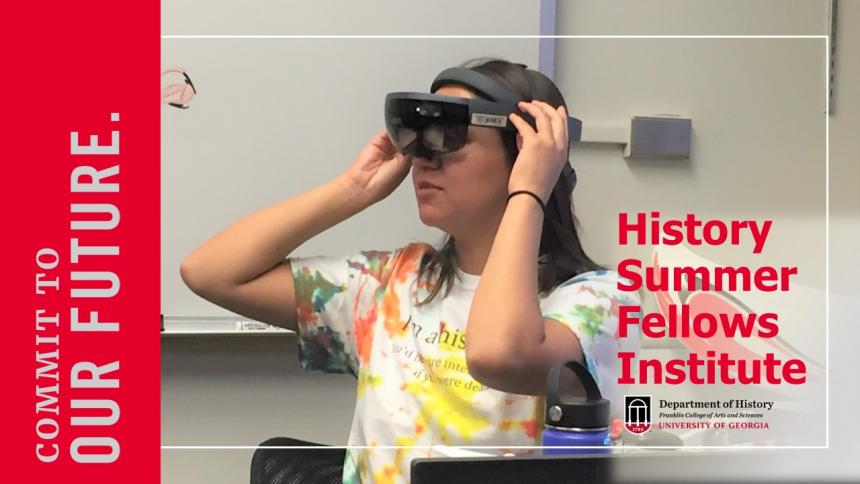 The Department of History is pleased to announce a fully-funded graduate preparation institute for underrepresented students this June 12 through July 5, 2020.
As Summer Fellows, rising undergraduate juniors and seniors, as well as recent graduates, spend a month in Athens, Georgia, living on-campus and immersing themselves in historical research. The program introduces participants to the advanced study of history in all geographic areas and time periods. Under the supervision of Georgia's stellar faculty, fellows learn how to work in archival materials, interpret photography and material culture, create digital projects and podcasts, formulate arguments about the past, and manage their own research projects. Fellows spend considerable time outside of the classroom as well, taking historical bus and walking tours, going behind-the-scenes of the University's Special Collections, attending historical events, lectures, book-signings, and film screenings.
Intellectual breadth, specialized scholarly competence, and excellence in teaching distinguish the graduate program in History at the University of Georgia. Internationally recognized and award-winning faculty serve as advisors for graduate students in a relatively small program, providing opportunities for individualized mentoring. Graduate students enjoy the academic resources of a major research university while developing marketable skills as educators. 
Eligibility
Applicants must be rising juniors/seniors or a recent graduate in history or a related field (preference will be given to graduate-ready candidates)

Applicants must demonstrate a strong interest in pursuing a graduate degree in history

Applicants must be available to participate in all four weeks of programming and prepared to

make a full-time commitment to the institute

Applicants must identify with a historically-underrepresented group

Applicants welcome from all geographic regions
 Program Benefits
Graduate study supervised by Georgia's outstanding faculty
Comprehensive work in primary sources
Writing experience
Exposure to digital history
Introduction to graduate admissions process
This program is fully funded. Each fellow will receive a stipend. In addition, the program will cover the costs of travel, housing, meals and course materials.
Applications are open for 2020!
To be considered for the institute, please attach the following materials as a single pdf attachment, in an email to historysfi@uga.edu  with the subject line "UGA SFI Application 2020":
A 500-word statement in which you discuss your specific interest in history. What attracts you to the discipline? Why is it important to study history? What kind of history assignments do you generally like?

A 10–20 page academic writing sample

The names, titles, and email addresses of two people who are willing to submit a letter of recommendation on your behalf

A copy of a current official transcript

A short resume
DEADLINE
Applications must be received by February 1, 2020. Decisions will be announced by March 1, 2020.
Please contact Stephen Berry and Annelle Brunson historysfi@uga.edu with any questions!